My Current Favourite Hair Products | Melix Review
Hi Pinkyies! It's been a while since I talk about hair products. Recently I got introduced to a really cool scalp care brand called – Melix.
Apparently the products from this brand has been loved by many influencers out there, so I decided to give it a try, to see whether it's just a gimmick or if it's really that good.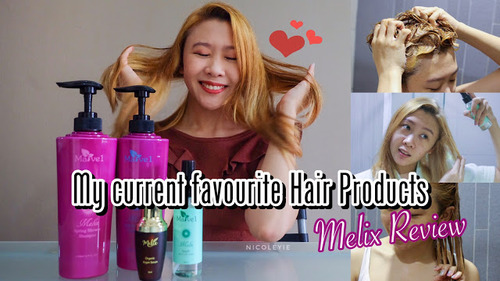 Melix is a scalp care brand that is targeted on scalp health, having the vision of using plant extracts and mild & gentle formulation to solve scalp problem. As their products are formulated in France, they emphasized the formulas are made of natural plant extract and chose only natural ingredients, thus to bring true effect to
reduce hair loss,
balancing scalp sebum secretion,
reduce dandruff and sensitivity of scalp to chemicals after dyeing or perming hair.
Their products also helped in hair dryness repair and hair growth.
Now let's talk about what kind of products I'm going to introduce. Their shampoos and conditionerscomes with 3 different types, named as Summer Rain, Spring Shower or Autumn Breeze (wonder when will Winter coming soon 🤔). Each of these targets different hair or scalp conditions, like
Summer Rain is suitable for sensitive, itchy, oily and nutrition deficiency scalp

Spring Shower is suitable for fragile hair, dry and sensitive scalp (I'm using this as shampoo)
Autumn Breeze is suitable for sensitive, coloring and perming hair (I'm using this as conditioner)
The whole set of products that I get to try out. Any of them already caught your eye?
I'm glad that I was able to be advised by the brand manager on which of their shampoo and conditioner are more suitable for my current scalp's condition after answering a few questions provided by them. Turns out the ones that are suitable for me are Spring Shower Shampoo & Autumn Breeze Conditioner because I'm having a really fragile bleached hair and moderate oily scalp.

Random fun fact, the initial letter of the names 2 products' names are "SSS" & "ABC" 😂 but to not confuse you guys I'll continue to use the full name instead of these cute short forms.
Melix Shampoo and Conditioner Usage Direction & Tips
Wet your hair thoroughly and press Spring Shampoo once, before applying the shampoo on your scalp and hair. Rinse your hair after shampooing it.

After rinsing your hair, press Spring Shampoo again. Gently massaging your scalp.

I was recommended to use this shampoo twice per wash – first time is to remove the oils and dirt that was garnered throughout the day. You will find the shampoo is not easily bubbled at the beginning because your scalp has dirt and oil. The second time is to deeply cleansed the scalp. At this time, the bubble will become more as the oil and dust has been cleaned at the first step. This step is important since it's the second cleaning, in order to let your scalp follicles breathe.

After washing your hair, apply the Spring Conditioner on your hair to let the natural plant oil repair your damaged hair. Leave the conditioner on your hair for not less than 3 minutes because the natural plant oil need time to permeate into the root of your hair, in order to provide nutrients to your hair so that u will not have split end and easily broken hair.

Tips: Apply Autumn Conditioner on your hair every time u wash your hair, but only apply it on your scalp 1-2 times per week. The reason is our hair scalp are easily dehydrated when expose to strong sunlight or air conditioning. Therefore, we should use conditioner to moisture our scalp or there would be wrinkles on it.

After bathing, remember to dry your hair.
My Thoughts on the Shampoo
First thing to talk about this shampoo is the super nice scent, like I was even praised by random colleagues on how nice my hair smells (not in a perverty way), and even my boyfriend keep saying how nice it is! Product usage wise, it's really refreshing after each wash and I love how it feels. It doesn't feels very dry after using as well.
Product Information

Name: Melix Spring Shower Shampoo
Active Ingredients: Hydrolyzed Wheat Protein, Avocado Oil, Calendula Flower, Jojoba Oil, Soybean Oil and Chamomile Flower
Volume: 500ml
Price: MYR 118.00 (check out their website for combo set)
Where to buy: Melix Website (link) or Messenger (http://m.me/melixmalaysia)
My Thoughts on the Conditioner
I am really impressed by this conditioner. For my current dry and fragile hair condition, I was supposed to use hair treatment every time I wash my hair. But after I started using Melix hair products, I only need to use my hair treatment once to twice a week, and my hair still feels so smooth!

Product Information

Name: Melix Autumn Breeze Conditioner
Active Ingredients: Tsubaki Dongbaek Oil, Meadowfoam Seed Oil, Cucumis Melo, Apple Stem Cell, Morning Glory and Hydrolyzed Wheats
Volume: 500ml
Price: MYR 118.00 (check out their website for combo set)
Where to buy: Melix Website (link) or Messenger (http://m.me/melixmalaysia)
So far I can tell that this set of hair wash products are gaining my trust and love. Now let's move on to see whether the hair serum and tonic are just as good or not.
A tonic is a must have in every scalp care! If you researched about hair care before, you definitely know that Apple Stem Cell is a really famous thing for hair growth, and Argen Oil is great for hair moisturizing. Really glad to be able to try out these products from Melix as well!

The Apple Stem Cell Tonic from Melix is suitable for hair falls, aging and sensitive scalp. It alleviate your scalp from aging and thereby improve your hair fall problem.
Usage Direction
After washing and drying your hair, spray the tonic on your scalp. Then, gently massage your scalp to let the nutrients permeate into it. After that you may dry up 1 more time.

My Thoughts
The tonic has a cooling sensation which definitely comes from the Peppermint oil in it, and it's easily applied to the roots with the spray. Nothing beats the refreshing feeling after a fresh hair wash and adding another fresh feel to the scalp!
It has a really light chinese medicine smell but not strong enough to feel unpleasant. So does this thinghelps in hair growth? Yes, more and more baby hair is standing up out from my parting only after using it for less than a month! 😀
Product Information

Name: Melix Apple Stem Cell Tonic
Active Ingredients: Apple Stem Cell, Peppermint Oil, Lamaria Digitata, Biotin, Pelvetia Calaliculata and Lecithin
Volume: 110ml
Price: MYR 88.00 (check out their website for combo set)
Where to buy: Melix Website (link) or Messenger (http://m.me/melixmalaysia)
Melix Organic Argan Serum helps to repair and moisturize dry and damaged hair. It has the property to brightens up your hair as well.

Usage Direction
There are 2 ways of using it according to your preference:
Use it before drying hair to protect your hair from damaged due to high temperature, or

Use after drying your hair to moisture your hair and let your hair shine.
Owing to high composition of natural plant oil, u are not advised to apply it on your scalp because it might be too oily to your scalp and make your scalp itchy. Only apply it on your hair/end hair.

My Thoughts
I have no other words to say other than how well this argan oil absorbed into my dry hair, calming my frizzy hair and gives it a shiny look. The most I use is 2 pumps and I still have remaining to apply on my hands as moisturizer.

Product Information

Name: Melix Organic Argan Oil
Active Ingredients: Organic Argan Oil, Jojoba Oil, Sweet Almond Oil, Olive Oil
Volume: 36ml
Price: MYR 80.00 (check out their website for combo set)
Where to buy: Melix Website (link) or Messenger (http://m.me/melixmalaysia)
Results
Can you see how smooth my hair gone after only 1 use of this set of Melix hair care??
This is my playing with my hair everytime after each hair wash. It's really smooth and smells good I can't resist!
I'm not trying to exaggerate but these products actually works wonders for me! Overall I have to say this set of hair care always makes me feel refreshed and have a good hair day after every hair wash! The nice scent and good result – 10/10! I can barely find any cons about them to be honest, because it's using natural ingredients!
I am definitely recommending this brand to whoever ask for hair care products recommendation. For beginner, you can always go for their trial set or travel set to see whether you like it or not. I do recommend you to have a chat with the experts thru messenger first.
For more information, kindly visit:
Melix Website: http://bit.ly/2MFNAy0
Melix Facebook: http://bit.ly/2MIqiaI
Melix Instagram: @melix_malaysia
Disclaimer: Product was sent to me for review purpose. All opinions and thoughts expressed are solely my own and based on my personal experiences and preferences. Results may vary on different person.
Original Post by Nicole Yie:http://bit.ly/2UjrVwR